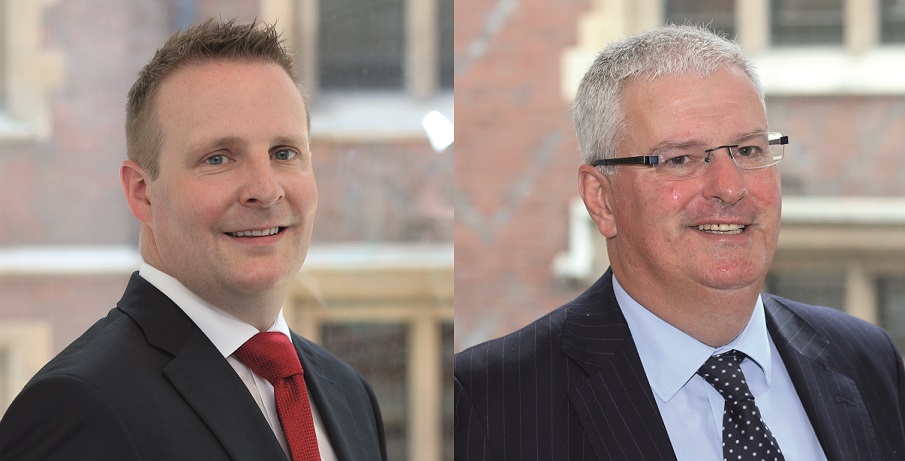 Just four months after announcing its launch, Keystone Law Northern Ireland has appointed senior commercial property solicitor Jim Houston formerly of Cleaver Fulton Rankin and former Clifford Chance lawyer and Translink's General Counsel, JP Irvine.
Jim advises on all aspects of commercial property with a particular interest in commercial and residential developments. He acts for landlords and tenants in the negotiation of leases for retail, office, industrial and hotel accommodation, as well as advising on the management of such properties, including the negotiation of rent reviews and lease renewals. Jim has advised both GB and US funds on the proposed acquisition of Northern Ireland loan portfolios and has also been involved in leading due diligence exercises in relation to the financing of various major Northern Ireland property assets by GB and NI banks.
Meanwhile, JP Irvine is set to join the firm as Director in the Corporate/Commercial Department at the end of August.JP will lead the growth of interconnected corporate, commercial, transactional, and regulatory legal service lines. JP is a highly regarded corporate and commercial lawyer with a wealth of knowledge gained in London and Brussels with the global law firm Clifford Chance followed by two pioneering corporate counsel roles in the UK.
JP brings significant experience of data and cyber protection from his time as Chief Information Officer/SIRO at Translink, plus has years of working with major regulated utilities whilst serving as Legal Director in the NI Utility Regulator. In the last 12 months, JP has gained a reputation as a leading legal mind on the business impacts of Brexit; so much so, he has spoken at the Institute of Directors and Government Legal Service on the subject and was invited by the Irish Prime Minister to participate in the recent All-island Civic Forum on Brexit.
The pair will work alongside the existing Northern Ireland team, based in Adelaide Street, to focus on its ambitions to be a local market leader in legal services in the coming years, as well as promoting the international brand of Keystone to new markets and new clients.
John McMahon, Managing Director of Keystone Law NI said:
"It has been a busy few months since our launch in Northern Ireland. We are already experiencing an influx of new major projects and client-led demand, along with great interest from lawyers locally and international "returners" to the province. They are keen to join us on our journey into new markets, using the Keystone model to deliver technologically enhanced legal services.It is vital for us that we hire the best lawyers with impeccable service standards and the right cultural-fit to help us execute our vision. Jim and JP both excel on all these fronts – we look forward to reaching new heights with them on board."
Jim added:
"I am delighted to have joined such a friendly and innovative practice. I am sure Keystone's offering to clients will be warmly welcomed throughout the Northern Ireland legal market and exciting times lie ahead."
JP (Director, Corporate/Commercial) continued:
"It is a privilege to be joining such an innovative, forward thinking firm such as Keystone Law. Keystone's vibrant vision for delivering modern legal services in a 21st century world matches perfectly with my brand of progressive, responsive, client-enabling legal solutions. I look forward to future success not only for Keystone but for all those clients who are already benefitting from coming with us on this exciting journey"