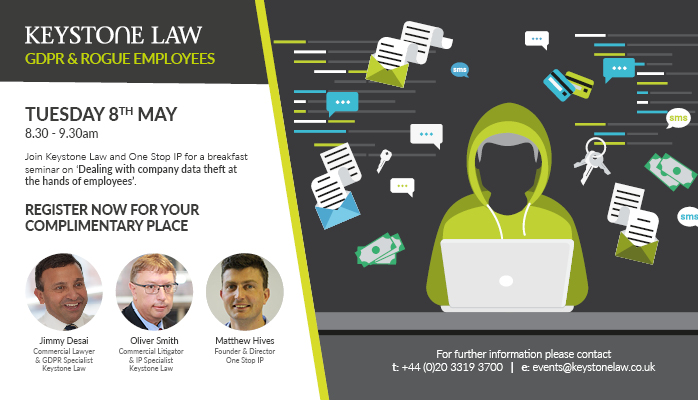 On Tuesday 8 May, Keystone Law will be co-presenting a morning seminar on issues businesses face when dealing with company data theft, at the hands of former or current employees.
Led by commercial litigator and IP specialist Oliver Smith and GDPR specialist lawyer Jimmy Desai, the event will cover what business leaders and HR teams can do in the wake of an employee gone rogue, including tips on damage limitation. Also covered will be key procedures relating to staff recruitment and policies to protect businesses from potential data breaches.
Joining the duo on the day to share his unique advice will be Matt Hives, founder and director of One Stop IP, a leading online portal providing an integrated solution for commercial IP needs. With particular expertise in using software to gather digital evidence, Matt will share his thoughts on the technical protective measures which can be used.
Attendees will gain access to a comprehensive business toolkit that will leave them well prepared to both prevent and deal with the consequences of data being comprised.
The event will take place from 8:30am-9:30am at Keystone Law's London office, 48 Chancery Lane, WC2A 1JF.
To register a place at the event, please contact events@keystonelaw.co.uk.