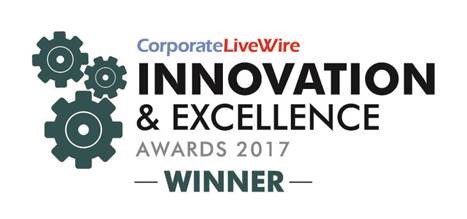 Corporate LiveWire has named Keystone Law as the 'Most Outstanding Law Firm in the UK for 2017, in its Innovation & Excellence Awards.
Around 100,000 business professionals, general public members and Corporate LiveWire subscribers nominated associations, companies and individuals based on their recent achievements over the past year.
The judging panel considered the strengths of each shortlisted candidate, setting its sights firmly on the most revolutionary, ground-breaking and client-focused firms, teams and individuals who have transformed the way in which they do business. Each winner was chosen on merit as having demonstrated excellence, innovation and strong leadership throughout their various activities over the past calendar year.
The founder and Managing Partner of Keystone Law, James Knight, said:
"We're very pleased to receive this kind of recognition from Corporate LiveWire for the second year running. Keystone continues to invest heavily in technological and working practice developments and for as long as the needs of both our lawyers and clients evolve, we will continue to evolve with them."
Elizabeth Moore, Awards Director of the 2017 Innovation & Excellence Awards, added:
"I have seen a massive change in innovation going into 2017. Billions have been spent in R&D and to work with the most influence people in the industry has been an experience to remember. Our winners have proven to overcome many economic changes and challenges including developments in legislation and politics. I would like to personally congratulate all of our winners and I look forward to seeing further success throughout 2017."