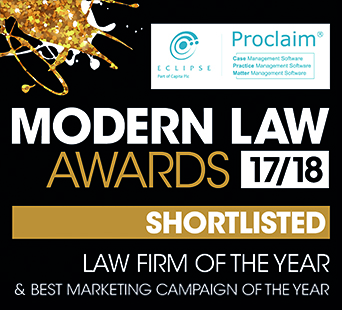 Keystone Law has made the shortlist for two Modern Law Awards which seek to recognise success in entrepreneurship, market development, business management and best practice in the modern legal services arena.
Named as contenders for Law Firm of the Year and Best Marketing Campaign of the Year, Keystone had to demonstrate its exceptional progress over the past year, inclusive of growth, financial performance, employee development and training. Specifically for the marketing accolade, the firm was required to showcase originality and innovative thinking with its latest recruitment campaigns including Quit The Circus.
This year has been the firm's most successful yet with it reporting a turnover of £25.6 million – an increase of over 20% on the previous year. Keystone was listed amongst the top 100 law firms in leading legal magazine The Lawyer's UK 200, for the first time.
The awards take place on 18 January 2018 at London's Lancaster Hotel.
James Knight said:
"This year has, in many ways, marked a momentous stage in the progression of Keystone Law. When we established the firm we knew that the legal market – both the clients and the lawyers working in it – were in need of a new way of providing legal services and we are delighted that we are meeting that demand and constantly pushing to adapt to the industry's changing needs. To be shortlisted for Law Firm of the Year is a testament to that dedication and the ingenuity of our model."
Marketing Director Kristina Oliver added:
"It's a real honour to be shortlisted for Best Marketing Campaign. As a team, we had a lot of fun creating the Quit The Circus campaign. The vintage and somewhat controversial imagery very much reflects the message we are trying to project, in that, times change and the legal profession is no exception to that change. Traditional partnership is no longer the obvious choice for high-flying lawyers who want to succeed. These adverts have gained some fantastic results and we are confident that they will continue to have a strong impact."