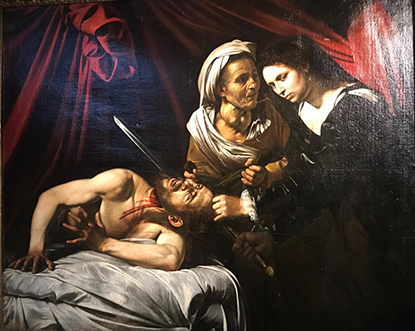 A painting of Judith Beheading Holofernes attributed to Caravaggio discovered by French auctioneer Marc Labarbe was recently sold privately for an undisclosed sum. But, is the painting a real Caravaggio? Art law specialist Lisette Aguilar explores the search for that "Caravaggio factor", referring to a previous case from her time at Sotheby's.
It is the stuff that dreams are made of: stumbling across a forgotten but highly valuable masterpiece in the attic. In particular, as French auctioneer Marc Labarbe put it, it is "the stereotypical fantasy for an auctioneer". For him the fantasy became reality: on 27 June 2019 the painting of Judith Beheading Holofernes which he discovered in a Toulouse attic was due to be sold with a full attribution to Caravaggio at the Marc Labarbe auction house in Toulouse for possible estimates of between EUR 100 million and EUR 150 million. In fact, the painting has now been snapped up before the auction by a private buyer for an as-yet-undisclosed sum.
The painting is an arresting depiction of the moment the Jewish heroine Judith saves her city from the Assyrian forces by the uncompromising method of cutting off their general's head (having first plied him with cheese and wine). Caravaggio certainly painted at least one version of this scene, displayed at the Palazzo Barberini in Rome, in which Judith looks a little more squeamish during the performance of her gruesome act. In the Toulouse painting Judith turns her gaze boldly at the viewer.
Caravaggio is of course one of the few artists whose name alone seems to cast a spell, and to own or find one of his compelling, beautiful paintings can be a lifelong quest for a collector, museum or expert. No wonder that there can be fierce debate about whether a painting is in fact by Caravaggio and what gives it that "Caravaggio factor". Price is not necessarily determinative of quality, and the sale of the Toulouse painting calls to mind some of the points raised in the case of Thwaytes v Sotheby's [2015] on which I worked while at Sotheby's, and provides an opportune moment to revisit some of the findings from that case and consider some of the similarities and differences in the treatment of the two paintings.
The Thwaytes case concerned the attribution process and whether Sotheby's experts had been negligent in the process they followed to determine, if possible, which artist created this particular work. Mr Thwaytes did not ultimately claim that his painting was by Caravaggio. Instead he argued that Sotheby's had failed to spot that the painting had "Caravaggio potential".
Effectively, the 108-page catalogue for the Toulouse painting does present that painting as having at least "Caravaggio potential" but an auction house would not use this term to describe an attribution; they would state whether in their opinion a painting is by a specified artist, probably by that artist (with some room for doubt) – "attributed to" – or painted at around the time of the artist or subsequently by somebody else who is not necessarily identifiable. Hence, in the case of the Toulouse painting, the catalogue states that it is by Caravaggio, whilst at the same time offering a lengthy discussion about the attribution. As part of the attribution process for the Toulouse painting, the work had been inspected by a number of experts, compared with other works and subjected to extensive scientific analysis as well as consideration of its provenance. Physical inspection, provenance and scientific analysis are often the three limbs of the attribution process, though not all paintings need to be subjected to scientific analysis in order to reach a reasonable conclusion about their attribution.
By contrast, Sotheby's had attributed the Thwaytes painting to a follower of Caravaggio, considering it to be one of the many copies of the highly popular "Cardsharps" composition by Caravaggio (the undisputed original of which is in the Kimbell Museum in Texas) depicting a secular scene of a young man being duped at cards. Copies were painted even in Caravaggio's lifetime, and openly sold as copies, not with intent to deceive. It was the buyer at Sotheby's auction, 97-year-old art scholar Denis Mahon, who declared that the Thwaytes painting was in fact a second original by Caravaggio himself, although whether Caravaggio in fact ever made identical copies of his own compositions is still a hotly debated issue among Caravaggio scholars.
Mr Thwaytes' experts relied upon both X-ray and infra-red evidence to support their argument that his "Cardsharps" painting had "Caravaggio potential". Similarly, X-ray and infra-red evidence has been put forward to support the attribution of the Toulouse painting to Caravaggio, with emphasis given to what are identified as "pentimenti" or changes to the underlying composition, such as the fingers of Holofernes originally having been painted a little longer than now appear on the visible surface of the painting. Material changes to a composition revealed by such technical analysis (and sometimes visible to the naked eye) are interpreted as proof of the creative process of the artist at work; for instance, in the original of the "Cardsharps" now in Texas, technical analysis revealed that Caravaggio had tried out a completely different positioning for one of the hands. However, a copyist might also make minor adjustments as they copy an original work.
Mrs Justice Rose's judgment in the Thwaytes case endorsed the traditional process of attribution, namely assessing quality through skills of connoisseurship and an expert's "eye" rather than technical analysis. Indeed she noted that "the role of technical analysis in the attribution of paintings to artists is still a matter of some debate. Although most scholars would conclude that technical analysis can establish that a painting is not from a particular period or not by a particular artist, its value in establishing a positive dating or attribution is less widely recognised."
Mrs Justice Rose found that Sotheby's had not been negligent in any respect in their assessment of the Thwaytes painting and unambiguously endorsed Sotheby's opinion that the Thwaytes painting was not by Caravaggio. She rejected each and every one of the "features" of the painting which Mr Thwaytes' experts put forward as suggesting that the painting had "Caravaggio potential", either because she found these features did not in fact exist, or because individually and cumulatively they were insignificant, or because the theories in support of them were "illusory" or "extremely speculative".
One striking difference between the Thwaytes painting and the Toulouse painting, apart from the quality (or probably because of it), is the weight of the support for the Toulouse painting by recognised experts, including for instance, Nicola Spinosa and Keith Christiansen, although their view that the painting is an autograph work by Caravaggio is not unanimously shared. Keith Christiansen acknowledges in a comment in the catalogue that "of course [his] foregoing observations do not mean that that those who reject Caravaggio's authorship of the Toulouse picture are wrong. Time will tell where the predominant opinion goes".
Ultimately, whoever painted the Toulouse painting (Judith's expression seems to challenge us to make up our own mind, as well as conveying her determination to save her people), the buyer knows that it has been widely scrutinised and that they have bought a painting under French law with a full attribution to one of the most iconic artists. Moreover, a certificate of export has now been issued by the French Ministry of Culture so the buyer will be free to take the painting out of France and display it wherever they wish. Meanwhile, the Thwaytes painting is still on view at the Museum of the Order of St John in Clerkenwell.
If you require advice on issues relating to the authenticity or attribution of artwork, please contact Lisette on the details below.
This article is for general information purposes only and does not constitute legal or professional advice. It should not be used as a substitute for legal advice relating to your particular circumstances. Please note that the law may have changed since the date of this article.