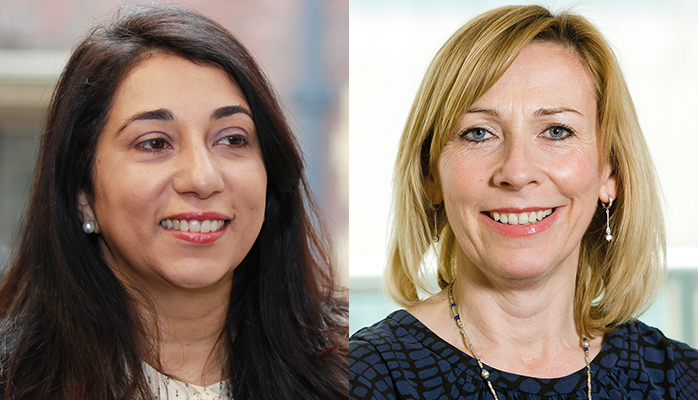 (Left to Right: Asha Kumar and Angharad Harris)
National firm Keystone Law has announced the appointment of two senior employment partners Angharad Harris and Asha Kumar from Watson Farley & Williams.
With 44 years' experience between them, the duo will bolster the firm's 40 strong employment team and will advise across all aspects of employment law.
Angharad, the former Chair of the Employment Law Committee of England & Wales and who sat on the Committee for a total of nine years, is particularly experienced in dealing with sensitive strategic employment law issues, including matters that involve reputational risk. This includes dismissals, board-level disputes, negotiating new contracts and employment litigation (including discrimination and whistleblowing, restrictive covenants and bonus issues).
Her client base is broad spanning multiple sectors and often includes an international element for corporates operating in different jurisdictions or individual clients with cross-border employment issues. She also advises businesses and individuals in relation to UK immigration matters.
Meanwhile Asha has particularly valuable experience working on commercial transactions, large global reorganisations, collective consultation issues, TUPE and outsourcing issues.She has worked on a number of high-value and high-profile corporate transactions and has acted for a number of AIM listed companies preparing them for investment and growth.Her client base is diverse and ranges from advertising agencies to wind farm operators to underwriters.
Angharad and Asha are both recognised within leading legal directories Chambers and Legal 500, referencing Angharad has "…both knowledgeable and practical in the advice she gives". Meanwhile clients single out the 'exceptional, empathetic and commercially sound' Asha Kumar, who acts for a wide range of clients."
James Knight CEO and founder of Keystone Law said:
"We are delighted by Angharad and Asha's decision to join Keystone. Both are talented lawyers with a strong set of skills that complement the clients and sectors within which we work. We look forward to the contributions they will bring."
Angharad added:
"The marketplace is changing for employment lawyers in the City. Clients want and seek progressive, dynamic services in a way that is different from the offering made by so many traditional law firms. Meanwhile lawyers desire flexibility and the toolkit to provide a first class service, doing the work that they do best."
Asha continued:
"Keystone is truly unique in its ability to combine senior expertise with competitive fee structures. This, paired with the autonomy and backing to build an offering which will continue to attract clients whilst adopting working practices that allow us to flourish, is what really attracted me to join Keystone Law."