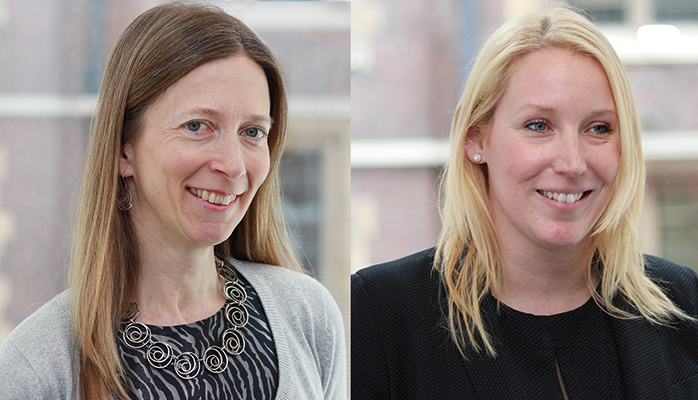 Keystone Law has announced the arrival of IP, technology and media lawyer Jessica Bent and commercial property expert Caroline Entwistle from regional firm Royds Withy King (RWK).
Jessica, a previous partner and Head of Technology & Media at RWK, is an intellectual property and technology specialist who deals with the full spectrum of non-contentious and contentious IP, as well as media rights, technology and IT law. Her experience includes advising businesses on all types of IT contracts such as outsourcing, licensing, development, interface agreements, app terms, and ecommerce agreements as well as data protection issues such as policies, data processing agreements, GDPR compliance and dealing with ICO requests. Her practice on IP coversthe full suite of IP rights, from brand management and trade mark infringement to copyright matters such as licensing and TW and audio production agreements. Within the region itself she has a particularly close relationship with the West of England Design Forum and has fostered links with Creative Bath and its members. She was also a founding director of Bristol Media which was created in 2005 to support, develop and grow an exciting and competitive creative/media community in the city. She is a regular presenter on IP and IT matters, as well as providing lectures to media students on IP issues.
Meanwhile experienced commercial property lawyer and previous Head of Leisure at RWK, Caroline has substantial experience in dealing with a broad range of property matters including a specialism in advising both the hospitality trade and charities. She has expertise in dealing with acquisitions and disposals of leisure-related property and businesses, and dealing with property transactions for national and regional charities. Much of Caroline's recent experience has focused on the sale and acquisition of hotels in the South West region along with numerous restaurants and bars. She has also extensive experience of working with regional charities including giving advice in connection with property acquisitions and charity regulations. Caroline also acts for pension funds advising on SIPP and SASS acquisitions and landlord and tenant matters generally.
Keystone's presence across Bristol and the South West has gone from strength to strength in recent years with more than ten senior lawyers based in the region, offering expertise in corporate, commercial, fintech, property and construction, planning, IP, media and technology law. The firm also has an office location in the popular One Temple Quay.
"Both Jessica and Caroline are brilliants fits for the firm," said Keystone founder and CEO James Knight of the appointments. "Their extensive experience in their relevant fields will make them extremely valuable assets to our offering as we continue to experience growing demand, in particular across the South West of the country."
Jessica added:
"I'm delighted to join Keystone Law, as it offers unrivalled technology platforms to enable us lawyers to address clients' needs swifter and in a more agile manner, whilst providing access for clients to senior top-notch lawyers. I'm also happy to be part of a great bunch of lawyers – particularly in the combined 45-strong Intellectual Property and Technology teams, as that is greater expertise and knowledge strength for the businesses I work with!"
Caroline continued:
"I am truly excited to be joining Keystone Law, a new format of law firm which actively enables its lawyers to focus on what really matters: the clients! The range of specialist knowledge within the firm will be an added benefit to my clients, enabling us to provide a truly full service in both a timely and efficient manner."