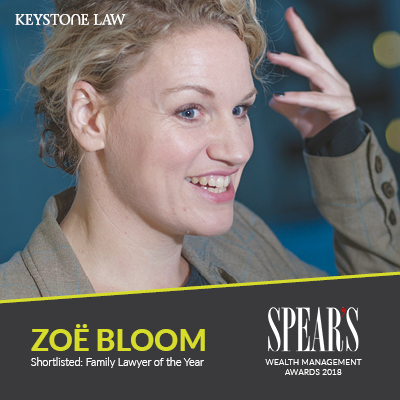 Family lawyer and financial negotiations expert, Zoë Bloom has been shortlisted 'Family Lawyer of the Year' by Spear's Magazine's Wealth Management Awards.
One of the most anticipated events in the private client-calendar, The Spear's Wealth Management Awards acknowledges and honours entrepreneurs, philanthropists and others for their innovation, success and outstanding contribution to the wealth management world and beyond. Categories range from Entrepreneur of the Year and Philanthropist of the Year to Private Banker, Family Lawyer and Property Adviser, covering every aspect of the high net worth world that plays a major role in the HNW/UNHW community.
The shortlist is based on the publication's research as part of its industry-leading indices across the family, property, wealth management, tax and trusts and reputation management spheres.
Zoë's selection makes her one of just six from the family law sector, all known and celebrated for their excellence and expertise.
Zoë said of her nomination:
"It is an honour to have been shortlisted for such a prestigious award, particularly as it is based on the votes of my peers and profession. Moreover, it is incredibly humbling to feature in a category that includes some of the most accomplished individuals in the business. I am truly delighted (and a little bit shocked!) as this marks the end of such a challenging and rewarding year."
The event itself takes place at The Dorchester Hotel on 6th November.