Aviation accidents can have catastrophic and life-changing consequences. Whether the accident results in serious injury or loss of life, in the aftermath there will be an investigation to understand what happened and seek the cause as well as discussions on compensation.
Of course, no life is average, and money has never brought anybody back. However, in these dire circumstances, the compensation process can provide some financial security for the victim's family.
Pursuing a claim
Where the plane crash has taken place as well as the location of the company and people contributing to the accident will have a significant impact on where a claim can be pursued. Each country has a different law on liability, court system and a different approach to valuing life and loss. Insurance companies also base their premiums on various factors including claims paid.
This point was clearly made with the 20th anniversary of the 9/11 Terrorist Attacks and the recent Netflix movie "Worth", which fairly depicts the political and social conflicts faced by Ken Feinberg, who was appointed Special Master of the 9/11 Victims Compensation Fund.
The Victim Compensation Fund (VCF) was designed to offer a no-fault, no-lawyer route for families for compensation as an alternative to suing the airlines and airports and security providers and their insurers.
The average pay-out from the fund for death was US$2.1m. Over 95% of those eligible to join the VCF did so. Some 95 families opted for litigation instead, and their claims were settled by aviation insurers on a confidential basis.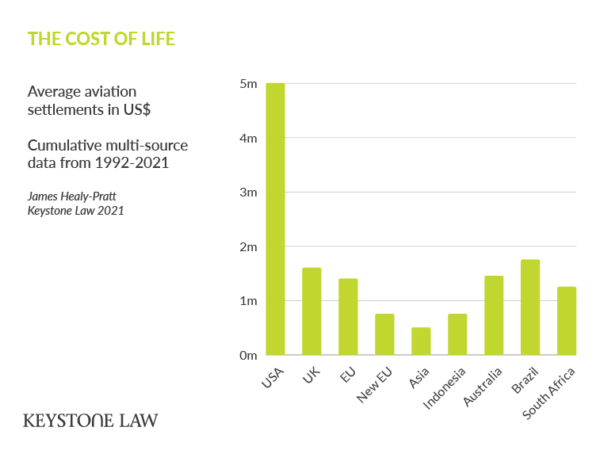 [This graph depicts average aviation settlements in US Dollars for several countries including the USA and the UK.]
The data outlined above is distilled from 30 years' experience of international aviation claims, including aviation insurance market data and published settlements and verdicts.
The graph clearly demonstrates that the compensation for a loss of life in the aviation context varies enormously. The single biggest factor is the country in which the claim is brought. The US courts have given the highest compensation, with the latest research establishing that the average value of a life lost in a US general aviation accident (light aircraft, business jets, helicopters, etc.) is US$5.2m. This is due to a number of factors, including access to justice, juries, and a culture that recognises unlimited compensation for emotional bereavement and trauma. Even within the US there are differences, and varying results can be expected in each of the fifty US states.
Elsewhere most aviation claims are dealt with by judges without juries, and there are quite a few countries that have legal caps on compensation for bereavement. For example, England and Wales has a law that limits bereavement compensation to £15,120, and compensation is based largely on provable financial dependency. Factor into this the international treaties on aviation liability, and it is clear that passengers killed or injured on an international flight can expect very different compensation results.
Aviation litigation is often complex and requires specialist aviation lawyers who have experience and knowledge of pursing claims globally to ensure that the best jurisdiction is chosen for the case. If you have any questions on the issues raised in this article or would like to discuss a claim, please contact James Healy-Pratt or Owen Hanna.
To receive our aviation law newsletter, or the Keystone monthly round up, please click here
This article is for general information purposes only and does not constitute legal or professional advice. It should not be used as a substitute for legal advice relating to your particular circumstances. Please note that the law may have changed since the date of this article.