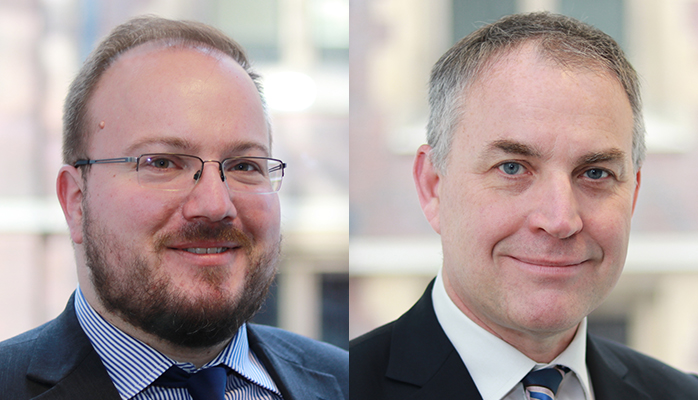 (Left to Right Florian Albert and Stuart Robertson)
As Keystone continues its aggressive hiring spree, it has announced the arrival of corporate lawyers Stuart Robertson and Florian Albert.
Stuart advises entrepreneurs, owner-managed businesses, private and quoted companies, and corporate advisers on a broad range of corporate and commercial transactions. His expertise includes mergers and acquisitions, IPOs and secondary listings on the London Stock Exchange and other capital markets, public takeovers, joint ventures, company restructurings, equity and debt fundraisings, and general company and commercial law advice. Stuart joins from Adams & Remers where he was a partner.
Meanwhile Florian has particularly strong experience in acting for companies on international mergers, acquisitions, disposals, funding rounds and joint ventures, as well as for issuers and banks on IPOs and secondary fund-raisings. Joining from Jones Day, in addition to his private practice experience, he has worked for a number of in-house legal departments through secondments at Citigroup and Goldman Sachs in London, and Airbus Group in Paris.
Keystone has added a number of capital markets experts to its lawyer portfolio in the last twelve months and the most recent duo will join the likes of Stephen Clow (Moore Blatch), Doug Rofe (Reed Smith) and Ian McIntyre (Maxwell Winward).
Keystone's founder and CEO James Knight said of the two appointments:
"Stuart and Florian are first-rate practitioners with unparalleled corporate transactional and capital markets experience that aligns perfectly with our clients' needs whilst complementing the skillset of our existing team.They are both outstanding additions."
Stuart continued:
"I am very pleased to have joined Keystone at this exciting time following its own IPO.Keystone stood out to me as a unique firm in terms of its progressiveness, talent, vision and personality.I am looking forward to helping to build upon its success alongside such an impressive array of specialists"
Florian added:
"Keystone provides a cutting edge legal service model for both practitioners and clients, and I look forward to working with my new colleagues and helping to advance Keystone's corporate and capital market offerings."