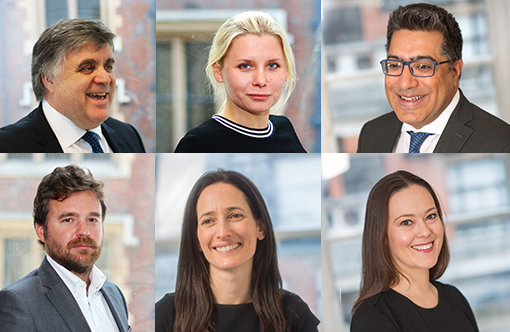 Leading agile firm Keystone Law has attracted a further six senior solicitors and barristers from firms including Withers, Cooley LLP, and Halebury.
The new arrivals will work across the firm's Corporate, Dispute Resolution, Employment, and Family teams.
Corporate – Stephen Clow, former Partner at Moore Blatch, and Alina Smidre, former Associate at Withers LLP
Experienced solicitor Stephen has 30 years' experience in public markets work, mergers, acquisitions and general corporate work, and holds the ICAEW corporate finance qualification. He also has broad expertise in commercial work. Meanwhile, business aviation and superyacht transaction expert Alina arrives with a practice that focuses largely on luxury commercial aircraft and high-value yacht sales, purchases, financings, leasings and charterings.
Dispute Resolution – Akash Sachdeva, former Partner at Cooley LLP, and Charles Coleman, former Director at Gough Law
Barrister Akash has specialised in intellectual property disputes for almost two decades and has a particular interest in technology, which is represented in his client base which comprises a range of high-growth companies in the sector. Manx advocate Charles joins Keystone Law Isle of Man's disputes offering with a wealth of experience in high-value financial services and company disputes, trust claims, frauds and quasi-frauds. He is particularly well known for his incisive advocacy and cross-examinations in court.
Employment – Ilana Swimer, former Consultant at Halebury
Keystone's Employment team gains a further boost in the form of contentious and non-contentious specialist Ilana. Alongside day-to-day HR matters, she advises companies and employees on employment tribunal proceedings, restructurings, workplace disputes, discrimination claims, managing sickness absence, restrictive covenants, disciplinary and grievance matters, exit strategies, settlement terms, TUPE and business reorganisations.
Family – Carolyn Bottomley, former Associate at Lee & Thompson
Dual-qualified in England and Wales, as well as Australia, Carolyn's work places particular emphasis on the resolution of high-value, complex financial disputes arising from divorce and relationship breakdown as well as arrangements for children. She regularly deals with clients from the entertainment industry who have a public profile to protect. An accomplished negotiator, Carolyn is also experienced in drafting pre-nuptial and post-nuptial agreements and resolving issues between unmarried couples.
Managing Director James Knight said:
"Increasing expectations from our clients, paired with an increasing workload requires us to grow and adapt accordingly to meet such demand. Experienced lawyers, such as those included in this recent recruitment round, significantly contribute to the firm's development and enable us to provide a highly transparent, efficient service."