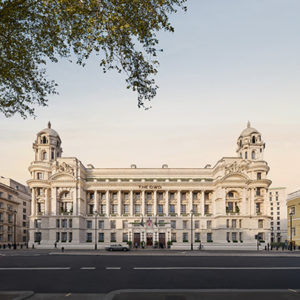 Keystone Law private property partners Ian Cooke and Sakhjit Randhawa are advising Westminster Development Services, as part of the Hinduja Group, on the sale of the 85 branded super-luxury residences at the iconic Old War Office, the former Ministry of Defence building in Whitehall, London.
Ian and Sakhjit have been working closely with the client project team since 2019 in preparation for the sales of the prestigious scheme.
Acquired and developed by the Hinduja Group in 2016, the landmark 760,000 sq ft Grade II* listed building, renamed The OWO, is undergoing a monumental transformation to include a 125-room, five-star, world-renowned Raffles Hotel, nine world-class restaurants and bars, and spa in addition to the unique duplex, lateral and penthouse apartments, which will retain many of the building's original features.
Built in 1906, the iconic Edwardian building located opposite Horse Guards was once used by Prime Ministers Winston Churchill and Lloyd George as well as Britain's Army Council.
Sakhjit commented:
"We are thrilled to be advising our clients on the legal work for this outstanding project. The 85 meticulously designed residences reflect the rich history of the building and its prestigious standing at the heart of Britain's institutional life."
Ian added:
"We have no doubt that this development will offer its residents state-of-the-art luxury London living with a strong sense of historic significance and grandeur."
For more information, visit: https://theowo.london/