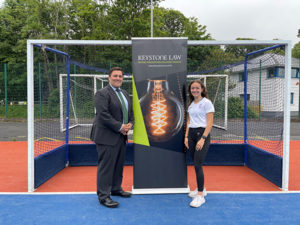 Sixteen-year-old Sienna Dunn has received sponsorship from Keystone Law Isle of Man as her budding hockey career goes from strength to strength.
Sienna, who plays for Valkyrs Hockey Club and the Isle of Man U18s team, has been selected from thousands of hopefuls to represent England U16s in this summer's internationals against the Welsh and Scottish national U16s sides. Sienna will join a core squad of just 12 players who will play in both international matches as well as eight activities over the summer in venues across the UK.
After balancing training with schoolwork and travelling to the UK during the pandemic, Sienna's talent as one of the Isle of Man's most gifted hockey players has been recognised by the England team selectors. Keystone Law IOM's sponsorship will help cover the extensive costs of travelling to and from training in England.
Keystone Law Isle of Man director William Margot commented:
"We are proud to support Sienna in achieving her ambition of representing England. We hope that she can emulate the achievements of other great sportswomen from the Island and that taking this opportunity to reach her full potential will inspire and encourage more girls from the Isle of Man to follow their sporting dreams. We look forward to following her journey and watching her succeed on the international stage."
Sienna is the latest youngster to receive sponsorship from Keystone Law Isle of Man. In 2016, the firm set up a community scheme which provides young athletes with greater sporting opportunities and progression routes.
To date, initiatives have included the sponsorship of footballer Ella Dixon, the Braddan School girls' football team, Manx Letterbox Trail funding, youth rugby international Bevan Rodd, and motorcross prodigy TJ Teare.
Sienna is looking for additional sponsors. If you are interested in joining Keystone Law in supporting this aspiring Manx athlete, please contact either: dette.dunn@icloud.com or cdunn1968@hotmail.com